Accommodation in Casa Particular at Guardalavaca beach
Accommodation in Guardalavaca beach at private house(casa particular) in a new and economic option for a free tourist. Meet with people cuban and know our culture is a nice experience. This space is special for you and your family! Now you can get accommodations in Havana, Trinidad, Santiango de Cuba and Baracoa too, know more here: Get accommodations for all Cuba with OlaCuba Casa Particular and Accommodation around Old Havana.
Now you can get hosting in Havana, Trinidad, Accommodation in Santiago de Cuba and Baracoa City too! Know more in http://tourholguin.orgfree.com. Get Accommodation in Havana, around Old Havana; visit Old Havana
Accommodation Casa Particular Guardalavaca Beach in Villa Castillito
Casa Particular Villa Castillito (little castle)
The house is fitted with everything needed for three guests, structured with an splendid room with a double bed, a singel bed and bathroom inside. From the balcony you can enjoy the wonderful and romantic evenings typical of sea views. In any architectural space you will be bathed in the scented breezes emanating from the horizon, perfect for your health. It is the place to learn about our customs and socialize with our Cuban. Write us your request and reserve for when you are ready. Prices is 35 cuc for whole house (cuc is our current coin), per night!
Agent: OlaCuba Casa Particular
Our Email: tourholguin.cuba@gmail.com
Our Phone Movil: +53 54277347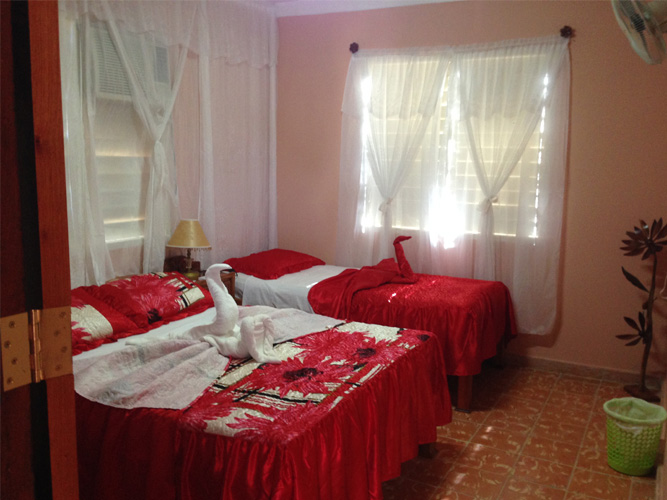 Complete the Form:
---
Last Reviews
Villa Castillito is a confortable place.Thank to the Agency OlaCuba Casa Particular for the taxi and the profesional work. David from England
---
Download Villa Castillito's pictures
---
Taxi Services
Taxi Services for all Cuba that you need, only confirms us the day of arrives and we will be there for show you best places in Cuba. What for to drive for unknown places if our taxi driver can lead you to your rent, beaches and tourist sites that you want? More secure, more economic and our guide explain you all it you want to know.
Tour
Cuba has benefited historically and geographically. The best beaches are within 55 km of the city and its history will witness the natural beauty around us. In our environment there are several museums and a detail not to be missed. Many archaeological evidence, from an aboriginal cemetery that was frozen in time.
Exchange
Prices of our rents are very reasonable and as is typical of free tourism, do you deside where to go, do what to eat and do where to spend your money. The currency you will be shopping in Cuban Convertible Pesos (CUC).
---